The Mariners latest signing of Robinson Cano to a $240/10-year contract may prove yet again that failing to look to the past when deciding a course for the future can cost you big time. As if there weren't already enough big contract underperformers, dare I say busts(?) over the past few years (Crawford, Howard, Hamilton, B.J Upton, Teixeira…) to prove teams must exercise extreme caution when considering lengthy big money contract; the Mariners need only glance back two years and a few hundred miles south down the west coast to Los Angeles for the most recent gut check on wide-eyed ambitious MLB CEO's who forget that a decade means TEN WHOLE YEARS!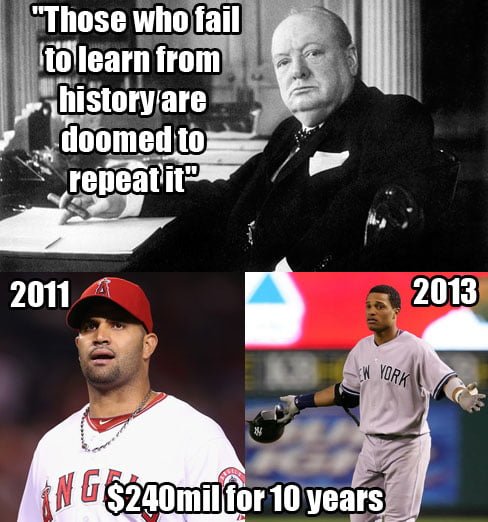 When the Angels signed Albert Pujols to a $240 million 10 year deal it opened up an honest debate. Even if you are talking about one of the most consistent and potent hitters of the current MLB generation, can you ever seriously commit $20-30 million a year to a guy 7-8-9-10 years out and feel good about the contract? The similarities between these two players and their mega contract signings are eerily ominous. Both signed their big contracts at 31 years of age. Remember what that means: guaranteed average salaries in the $25 million range when they are 38-41 years old. Care to venture a guess how many 40 year olds in MLB history would of been worth that kind of cash? Me either because I don't like to spend my time looking for mythical things that likely don't exist. IE…Bigfoot, the Loch Ness Monster, a $25 million dollar 41 year old MLB slugger, etc, etc.
This debate could go on endlessly and only time will tell if Cano or Pujols or any of these big signings pan out. But one thing is for sure. Baseball is a business first and foremost. To the casual fan, dreaming of vicarious World Series glory from the armchair of their living room, contracts like this seem like a waste of money. But in reality for any MLB franchise the decision to sign these deals usually can produce a win-win outcome. Or if things turn sour, a neutral result. Teams like the Angels and Rangers currently have a 20 year, $3 billion local broadcasting contracts. The Mariners just recently positioned themselves to earn approximately $2 billion over 20 years with their acquisition of a majority stake in the ROOT network. When all emotions and fandom are set aside, none of these contracts will really hurt a team financially at the end of the day (or ten year contract).
What people are saying... Leave your rating
Be the first to leave a review.
Show more