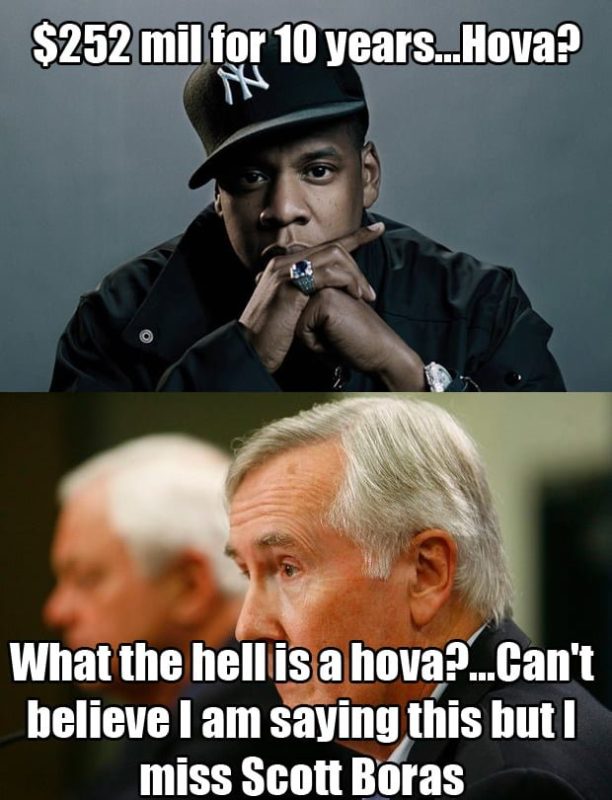 Negotiations nearly broke down completely last night between Robinson Cano and the Seattle Mariners. Reports indicate that Cano's agent Jay Z rebuked the Mariners offer of 8 years and $200 million and countered with an Arod record contract matching demand of 10 years and $252 million. Howard Lincoln, CEO and Chairman of the Mariners apparently "exploded" in response and abruptly ended the meeting. The story if true is a clear indicator that being a rap mogul doesn't qualify you for power brokering professional athlete contracts. Is anyone shocked by this revelation? At a time when no other team seems willing to offer anywhere near Cano's demands it is stunning that Jay Z would push the envelope so far. Fortunately for all involved (except Cano's future World Series hopes) a deal was struck in the end. A compromise between the Mariner's $225 million over 9 years last offer and Jay Z's $252 over 10 years demand resulted in a comfortable $240 million over 10 year deal. Score this one a victory for newly minted power broker Jay Z…all drama aside.
What people are saying... Leave your rating
Be the first to leave a review.
Show more